Steps to download and install Parent App
Wednesday, 10 May 2017 17:45
Dear Parents,
The IPEM Parent App has been designed for parents to communicate efficiently with the school and receive important information regarding their ward. For security reasons only genuine parents can download this app exclusively from our website and it has not been launched on google playstore. Presently this App is available for only Andriod Smart Phones and the IOS (Apple version will be launched in the future).
Parents will need to Save the App on their smart phone memory after providing their registered mobile number and wards Student id Number. Before installation of the App parents will need to enable "Allow Installation of Apps from Unknown sources" - this option is usually available under Security Options OR under Additional Settings -> Privacy. (this option is available on all Android devices but sometimes it is put under a different menu option - depending on the model of phone). If you have more than 1 child studying at IPEM International School, you need to install the App ONLY ONCE and add additional students from within the App.
A Simple external Youtube link is given to demonstrate how to enable this https://youtu.be/79blj8MGfn0
Given Below is A Step by Step Graphic Guide on how to Install the Parent App.

For a Step by Step Video Demonstration click here
STEP 1
Open the School website on your Android Phone using your browser (preferably Google chrome) and click on Parent App on the left menu as shown below.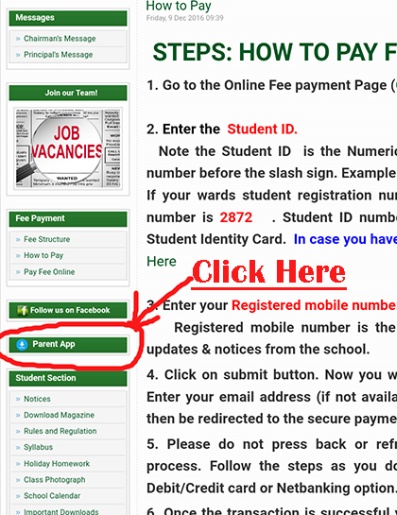 STEP 2
A. Enter your Registered mobile number.
Registered mobile number is the one on which you receive SMS updates & notices from the school.
B. Enter the Student ID.
Note the Student ID is the Numeric part of the student registration number before the slash sign. Example.
If your wards student registration number is 2872/P/14 . His/ Her ID number is 2872 . Student ID number is also printed on your wards Student Identity Card. In case you have FORGOTTEN your ward's ID Click Here
C. Click on Download button.
D. Now you will be shown your ward's details and button to Download App.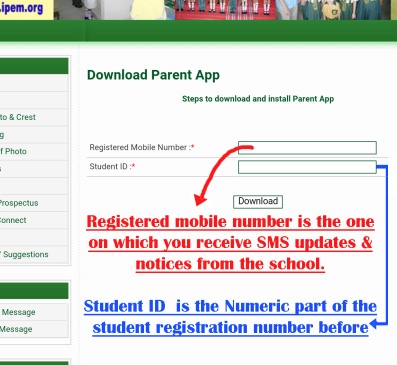 STEP 3
Click on the button as shown circled below: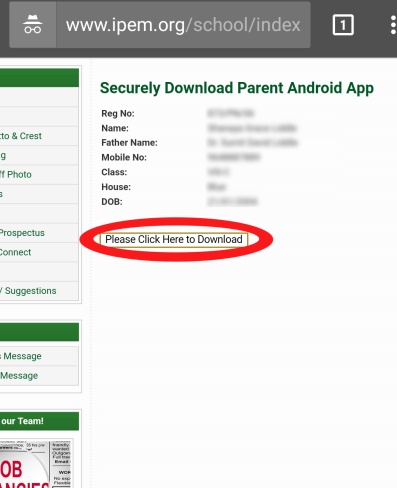 STEP 4
The IPEM App Apk (Parent App) will get saved on your phones internal/external memory. It is usually saved in the downloads folder which can be accessed through the file manger. Alternatively you could also open the file by using the notifications drop down menu when it shows that the download has completed.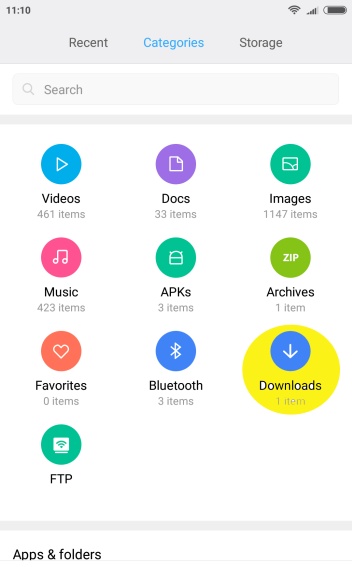 STEP 5
You will need to click to install the Apk file.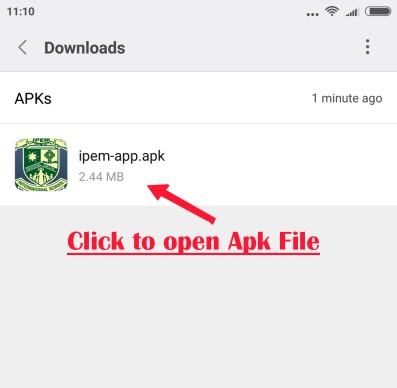 STEP 6
Now click on the Settings link shown below. Before installation of the App parents will need to enable "Allow Installation of Apps from Unknown sources" option which you will find after clicking on settings.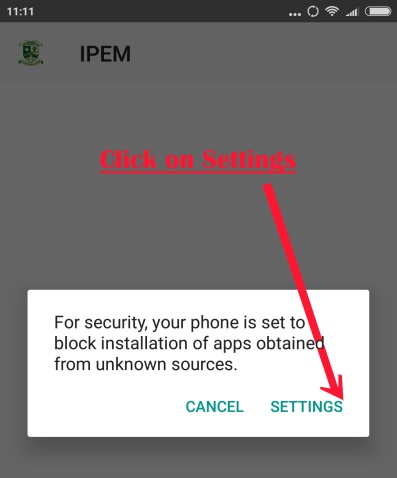 STEP 7
Now enable enable "Allow Installation of Apps from Unknown sources" by shifting the toggle switch to the right.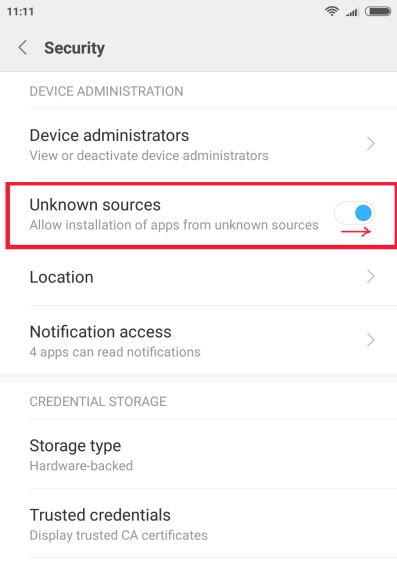 STEP 8
After this go back and repeat Steps 4 & 5 and then install the app as shown below.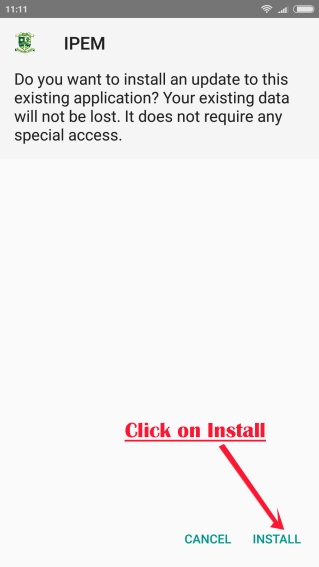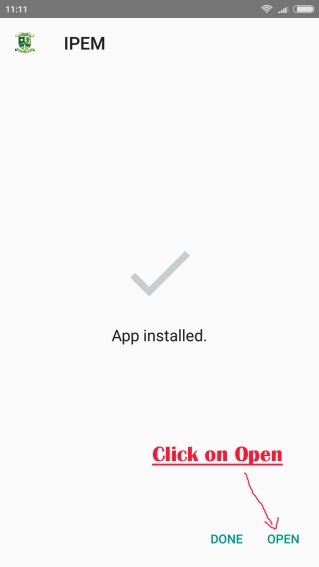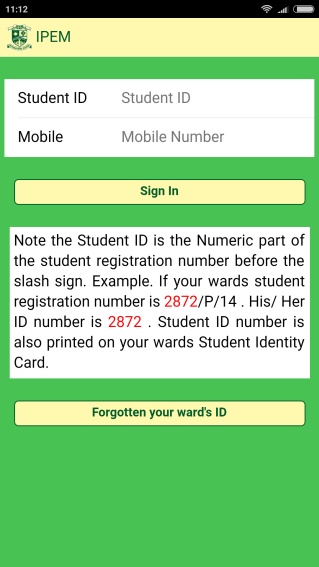 STEP 9
When you use the application for the first time you will need to enter your child's Student ID and registered mobile number (as mentioned in step 2). You will then receive a OTP (one time password) on your registered mobile to Authorize the App. After this the App will be fully functional.
NOTE
1. In case you have more than one child studying at IPEM International School you can add that child in the App (please dont try and install the App again for the second child).
2. The App can be installed on both parents phone by using the OTP sent on the registered mobile number. Kindly ensure that this App is used only by parents and is not misused by your ward any misuse will result in the App service being terminated for your ward.
3. After the App has been installed and is working it is advisable to turn off the option "Allow Installation of Apps from Unknown sources"
For a Step by Step Video Demonstration click here
Last Updated On Saturday, 24 Jun 2017 14:32