C.I.S.C.E Board Results
Monday, 5 Nov 2018 14:14
C.I.S.C.E - BOARD RESULTS 2020

quicklinks
ICSE(10)
ISC (12)
Over All
With the consistently brilliant performance of our class 10th & 12th standard students in the Board examinations conducted by the Council for Indian School Certificate Examination (C.I.S.C.E), the IPEM International School has established itself among the top Council affiliated schools of the country.

This year too, maintaining the hallmark of the IPEM International School, which has been its unique student-centric learning environment, and its great track record in the I.C.S.E and I.S.C board examinations; the students proved their mettle by performing brilliantly in the board exams. As per the statistics provided by the Council our school's average performance in both ICSE and ISC batches in each and every subject was much above the national average of CISCE

The main highlight of IPEM International School results has always been the outstanding batch averages of both ICSE and ISC. The average performance of the entire batch actually shows the real performance of a school as a whole. While individual performance is also something to be extremely proud of, and is mostly highlighted by many schools, however we at IPEM International firmly believe that judging the performance of a school should not just limited to looking at the individual performance of a few toppers, but the entire batch as a whole. We are extremely proud that both our batches of ICSE and ISC have broken previous years records in terms of the highest batch average. The Average aggregate percentage of the ICSE(10) 2020 batch was 90.2% while the aggregate percentage of the ISC (12) 2020 batch was 87.1%
Our school's excellent board result stands testimony to the quality of education that is imparted here, and shows the commitment and dedication of our assiduous teachers. Right from the Pre-Primary classes, our teachers work tirelessly with each child, assessing their strengths and weaknesses to ensure the best learning outcomes, and it is their efforts that are bearing fruit today.
ICSE 2020 RESULT SUMMARY
IPEM presented its 10th Batch of ICSE in 2020 and our students performed superbly yet again. The school achieved a 100% pass result for the tenth consecutive year. The average aggregate percentage of the entire I.C.S.E 2020 batch was a staggering 90.2%.

59% students who appeared secured an aggregate of over 90%. 98% of the students who appeared passed with an aggregate of above 80%. Lowest aggregate score obtained was 77.2% (above distinction). Therefore not only did each and every ICSE student of IPEM International School pass with First Division marks but also with Distinction ( Aggregate of over 75%).

ICSE 2020 Top 10 are:

| | | |
| --- | --- | --- |
| RANK | NAMES - ICSE TOP 10 | AVERAGE |
| 1 | Anusha Upadhyay | 97.6 |
| 2 | Tanishka Srivastava | 97.2 |
| 3 | Fatima Siddiqui | 96.6 |
| 4 | Kritika Dua | 96.4 |
| 4 | Shueza Shakeel | 96.4 |
| 5 | Mirza Farhan Ghazi | 96.0 |
| 6 | Insha Anha Ansari | 95.8 |
| 7 | Shanaya Grace Liddle | 95.6 |
| 8 | Kartikey Agarwal | 95.4 |
| 8 | Swarmil Chandra | 95.4 |
| 8 | Ayush Kesarwani | 95.4 |
| 9 | Yash Chauhan | 95.2 |
| 10 | Albiya Zehra Naqvi | 95.0 |

ICSE 2020 Subject Toppers are:

SUBJECT

NAMES

HIGHEST SCORE

Mathematics

Anusha Upadhyay

100

Computer Application

Tanishka Srivastava

100

Environmental Application

Anusha Upadhyay
Fatima Siddiqui

100

History Civics & Geography

Tanishka Srivastava

100

Commercial Studies

Fatima Siddiqui
Ayush Kesarwani
Swarmil Chandra
Albiya Zehra Naqvi

100

Hindi

Tanishka Srivastava
Anusha Upadhyay
Fatima Siddiqui

99

Science

Anusha Upadhyay

98

English

Shanaya Grace Liddle

93
I.C.S.E 2020 (Class 10) Toppers
Anusha Upadhyay (97.6%)

Tanishka Srivastava
(97.2%)

Fatima Siddiqui (96.6%)

Kritika Dua
(96.4%)

Shueza Shakeel (96.4%)

Mirza F.Ghazi
(96%)

Insha Anha Ansari (95.8%)

Shanaya Liddle (95.6%)
ISC 2020 RESULT SUMMARY
In 2020 IPEM presented its 7th batch of ISC and they performed exceptionally well. The school achieved a 100% pass result with all the students scoring 1st Division marks (aggregate of above 60%) for the sixth consecutive year. 44% of the students that appeared, scored in excess of 90% aggregate. More than 78% of the students that appeared scored an aggregate of over 80%. 90% of the students who appeared passed with distinction (aggregate of above 75%). The Average aggregate percentage of the entire batch was 87.1%. The Lowest aggregate score was 70%.



The ISC 2020 toppers are:

| | | |
| --- | --- | --- |
| RANK | NAMES - ISC TOP 10 | AVERAGE |
| 1 | Pramil Kesarwani | 97 |
| 2 | Ayushi Tiwari | 96.25 |
| 3 | Tushar Keshari | 96 |
| 4 | Kunwar Vaibhaw Singh | 95.25 |
| 5 | Saurabh Kumar Tripathi | 94.5 |
| 6 | Sujal Gupta | 94.25 |
| 7 | Mansi Yadav | 94 |
| 8 | Vanshika Singh | 93.75 |
| 9 | Mansi Kesarwani | 92.25 |
| 10 | Ansh Kesarwani | 91.25 |

ISC 2020 Subject Toppers are:

Subject

NAMES – ISC SUBJECT TOPPER

HIGHEST SCORE

Mathematics

Tushar Keshari
Pramil Kesarwani
Saurabh Kumar Tripathi

100

Commerce

Kunwar Vaibhaw Singh

100

Computer Science

Kartikeya Dwivedi
Sujal Gupta
Pramil Kesarwani

99

Hindi

Amaan Ansari
Mohd Rafey
Mohd Faisal Khan
Mansi Yadav
Kunwar Vaibhaw Singh

99

Chemistry

Pramil Kesarwani

98

Economics

Vanshika Singh

98

English

Ayushi Tiwari

97

Physics

Tushar Kesari

97

Biology

Mansi Kesarwani

96

Accounts

Kunwar Vaibhaw Singh

91
I.S.C 2020 (Class 12 Toppers)
Pramil Kesarwani (97%)

Ayushi Tiwari (96.3%)

Tushar Keshari (96%)

Kuwar Vaibhaw
(95.3%)

Saurabh Tripathi (94.5%)

Sujal Gupta (94.25%)

Mansi Yadav
(94%)

Vanshika Singh (93.75%)
IPEM INTERNATIONAL SCHOOL'S PERFORMANCE RECORD
IN THE BOARD EXAMINATIONS SINCE C.I.S.C.E AFFILIATION

COUNCIL EXAMS

Pass Percentage

(Percent of students that passed)

Percentage of Students Scoring Above 60% Aggregate

(First Division)

Percentage of Students Scoring Above 75% Aggregate

(Distinction)

Percentage of Students Scoring Above 80% Aggregate




Batch

Indian Certificate of Secondary Education (ICSE) Examinations – Class 10

1st

ICSE 2011

100%

100%

75%

45%

2nd

ICSE 2012

100%

100%

62%

38%

3rd

ICSE 2013

100%

100%

60%

41%

4th

ICSE 2014

100%

98%

60%

33%

5th

ICSE 2015

100%

100%

82%

64%

6th

ICSE 2016

100%

100%

85%

70%

7th

ICSE 2017

100%

100%

92%

86%

8th

ICSE 2018

100%

100%

97%

88%

9th

ICSE 2019

100%

100%

100%

93%

10th

ICSE 2020

100%

100%

100%

98%

Indian School Certificate (ISC) Examinations – Class 12 (Science Stream)

1st

ISC 2014

100%

100%

42%

30%

2nd

ISC 2015

100%

100%

73%

66%

3rd

ISC 2016

100%

100%

100%

72%

4th

ISC 2017

100%

100%

92%

77%

5th

ISC 2018

100%

100%

86%

57%

6th

ISC 2019

100%

100%

95%
84%
7th

ISC 2020

100%

100%

95%

88%




Indian School Certificate (ISC) Examinations – Class 12 (Commerce Stream)

1st

ISC 2014

90%
(only 1 student failed)

80%

39%

28%

2nd

ISC 2015

100%

100%

75%

38%

3rd

ISC 2016

100%

100%

61%

23%

4th

ISC 2017

100%

100%

60%

34%

5th

ISC 2018

100%

100%

57%

48%

6th

ISC 2019

100%

100%

76%

57%
7th

ISC 2020

100%

100%

87%

69%









2020 Results - In the NEWS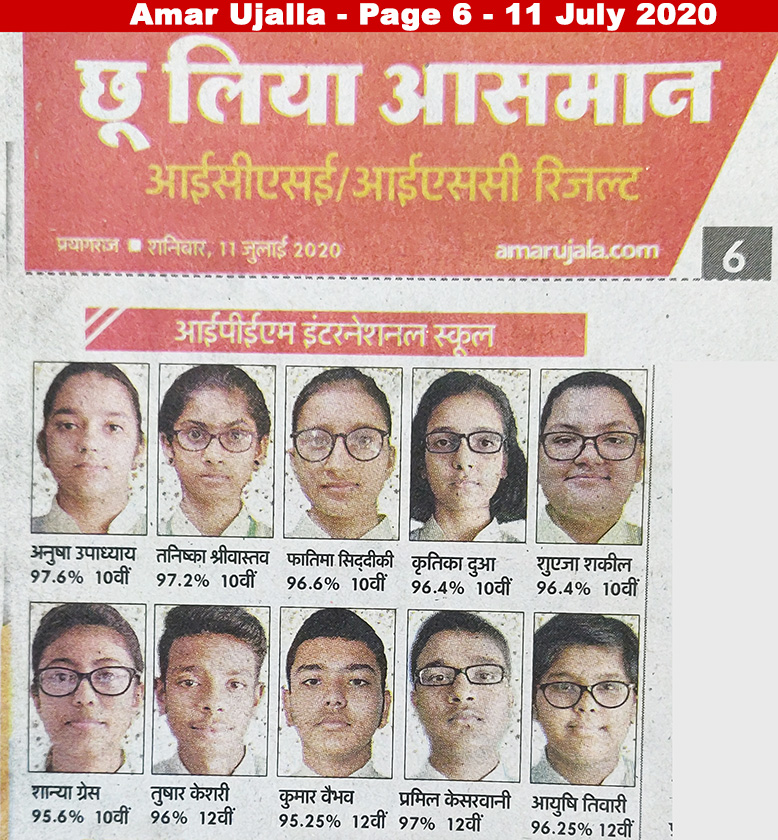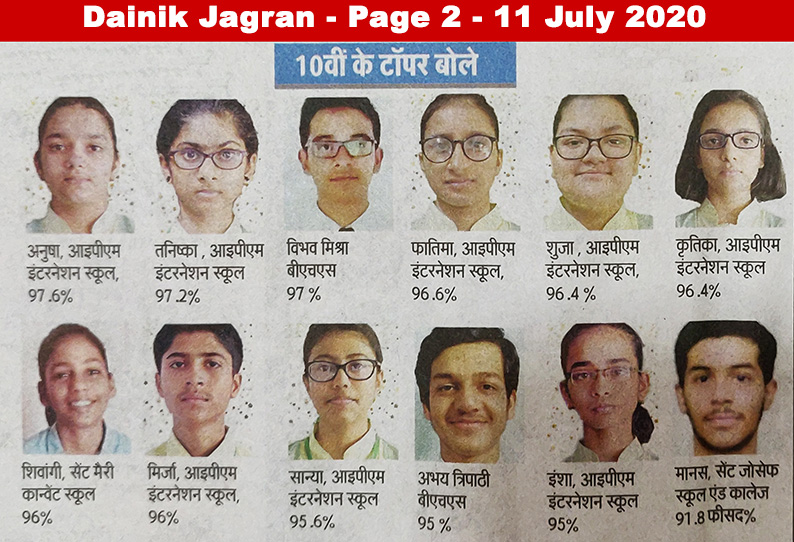 Previous Years Result Related News Clippings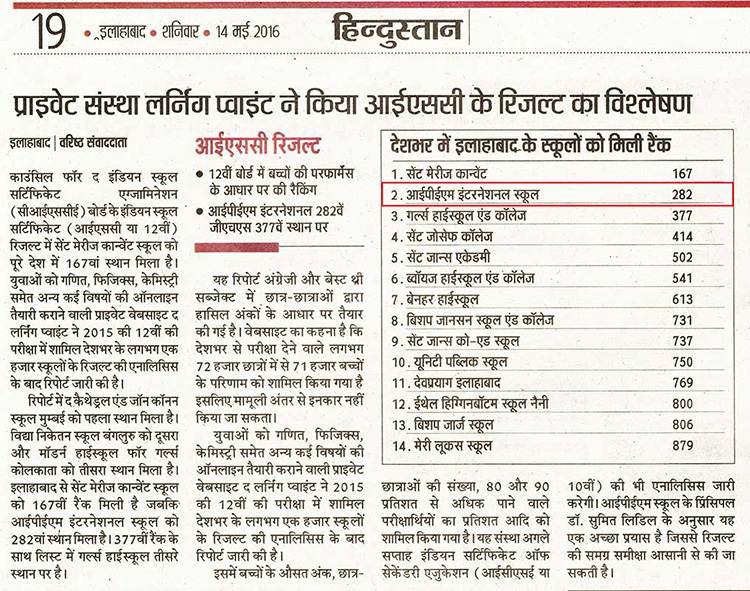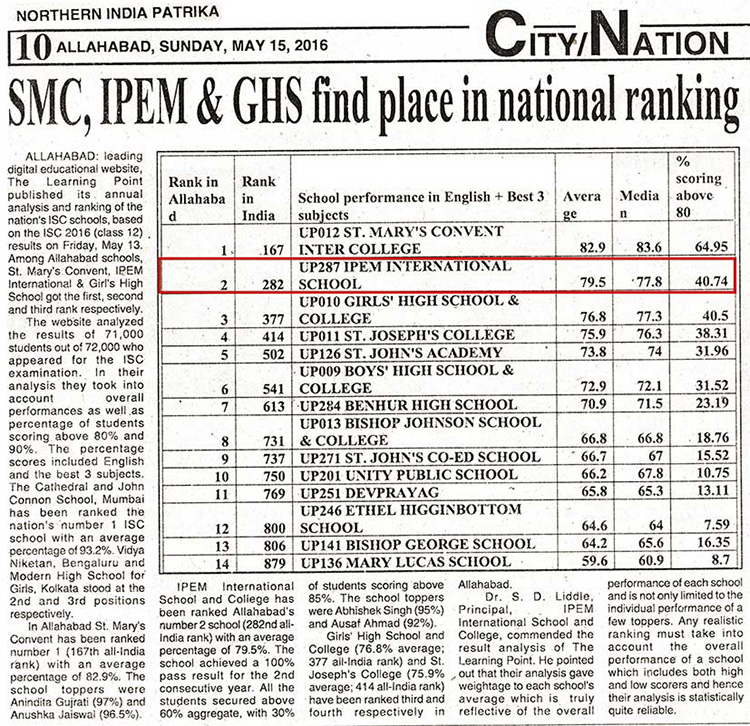 Last Updated On Sunday, 10 Jan 2021 19:02