Chairperson's Message
Monday, 16 Sep 2013 16:58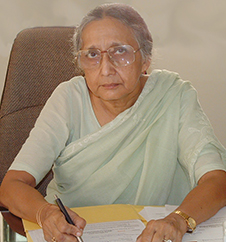 As the IPEM International School and College completes another year (2017-18), I am filled with pride and happiness, and express my gratitude to God Almighty for helping us come full circle. Indeed, it has been an eventful journey since the inception of the school back in 2004. Today, we may proudly say that what began as a dream has successfully made its mark in the city's blooming education sector. Indeed, the IPEM International School shines brightly among all other top city schools. It is in no small part, a contribution of the able leaders, teachers and parents who work in sync to ensure the very best learning environment for the heart and soul of the school – its children.
It is very heartening, therefore, as Chairperson and Former Principal to see our efforts bear fruit. The unprecedented board exam results this year have cemented our position as one of the premier C.I.S.C.E affiliated schools of the city. I would like to specially congratulate this year's ICSE topper, Shreyash Pal, who secured the highest percentage in the district with 98%. This, along with the stellar ICSE and ISC results, showcases the high standard of education being provided at IPEM International School. I am also extremely proud to state that the school is ranked among the Top 300 ICSE schools of the country. Truly, I applaud the teachers who have helped the students perform admirably, as well as the able guidance and supervision of Dr. Sumit Liddle and Mrs. Serene Liddle, who continue to transform the school and lead it onwards to new horizons.
It has indeed been an eventful year, replete with a plethora of activities and events that celebrate the spirit of learning, growth and creativity. All these events contribute to the holistic development of the students, who are able to hone their talents and channel their energy into productive, creative work. This remains our belief at IPEM International, that students can achieve their full potential only when they are given free rein to their innate talents.
The unique blend of academics, co-curricular activities and value education imparted at the school continue to set it apart from the crowd. It remains my humble wish that IPEM International continues to shine as a lighthouse of goodness and truthfulness, that in addition to academics, the young ones who pass through its corridors may become caring, productive and responsible citizens and future leaders of the country. Once again, I commend the entire management, staff and student body of IPEM International School for their achievements. I pray that God showers each one of us with His divine grace and blessings, and that our school continues to grow in faith and integrity.
May God bless you all.

Miss Shobhana Chatterjee
Chairperson
IPEM International School and College
Last Updated On Tuesday, 27 Feb 2018 12:07