Admission Information
Monday, 16 Sep 2013 16:34
IMPORTANT
Admissions are now open for the Academic Year 2021-22 . Due to the Covid19 protocols we are offering the facility for both online as well as offline Admission Application.

The forms /portal will be open till 31st January 2021.

The Online Admission process will be done completely through our Online Admission portal for Contactless processing.

Paper Admission

Forms will also be available at our school counters from Monday 11 January 2021 (9am to 2pm) for those parents who are not comfortable applying online or wish to apply offline.
Parents applying online through the admissions portal do not need the paper application form to apply.
Non-Refundable Registration fee for admission application is Rs. 1500 which is payable online via the admissions portal and at our fee counters for offline paper admission forms.
Online Admission portal Link https://admissions.ipem.org
Please go through the information given below before applying
Information Regarding Rules Regulations and Code of Conduct

CRITERIA FOR ADMISSION
1. The student must meet the academic entry requirements laid down for each class.
2. The students age for admission into a class, should be as per U.P Government norms.

Minimum Recommended Age (In Years as on 1st Jan 2021)
● Nursery (3+), ● K.G (4+), ● Prep. (5+ yrs), ● Class 1 (6+), ● Class 2 (7+), ● Class 3 (8+), ● Class 4 (9+), ● Class 5 (10+),
● Class 6 (11+), ● Class 7 (12+), ● Class 8 (13+), ● Class 9 (14+), ● Class 10 (15+).
3. The School may grant admission on the basis of previous school report card, written test or interview.
4. The School reserves the right to grant or refuse admission without assigning any reason.
5. Facility of admission without any test (only interaction) is only for Nursery class.
6. There are only limited number of seats in every class. In higher classes forms will be given only if seats are available to accomodate new admissions.

7. The school may use Zoom meetings, online tests, or whatsapp video calls for conducting Tests and Interviews due to the Covid19 for selecting students.

8. Parents who have applied offline for admission will need to use our admission portal to keep themselves updated. The school will send SMS messages about the dates for interviews and tests and the same will also be updated on the admission portal, therefore the school will not be responsible if a parent claims not to have received an SMS.
DOCUMENTS REQUIRED FOR ADMISSION
● Registration cum Admission form duly filled. ● 2 Passport size photographs of the student.
● Proof of residence of parents (Photocopy). ● Birth Certificate Issued by Municipal Corp/ Council (Photocopy duly Notarized by a Public Notary)
● Photocopy of Report card of Last School attended. ● Transfer Certificate from previous school.
● Adhaar Card of Student & Parents (If available). ● Indian Student Visa is required for Foreign Students.
● Caste certificate is required to be given incase student is from SC/ST/OBC category.
(In case of transfer from a school outside the state the Transfer certificate must also be duly attested by the competent authority of the Education Department of the State from where a student seeks transfer). Date of birth given in the admission form cannot be changed or altered after admission is granted and will be as per the birth certificate submitted at the time of admission and given in the admission / registration form.
PROCEDURE FOR OFFLINE ADMISSION
1. Parents who are not comfortable with online processing can obtain the paper registration cum admission form from the IPEM International School (112 S.P Marg, Civil Lines) or IPEM Head Office (119/25 M.G Marg, Civil Lines) between 9:30am-2:00pm on any working day between 11th January 2021 and 1st February 2021.
2. Please complete the offline form and submit it at the school counter before 31 Jan 2021 (retain a photocopy of the form for your reference).
3. You will be sent an SMS alert regarding the admission test dates and you are to bring the child on that day for admission test/interview/interaction. If the child is granted admission you will be intimated via SMS and will be required to pay the admission fee, and quarterly fee and obtain fee receipt. (Ensure to Provide Correct working mobile number). Please log in regularly to the admission portal https://admissions.ipem.org with your form number and mobile number for updates.
3. For more information please visit the 'Admissions Section' given in the main menu of our school website. For Fee related information please check the 'Fee Structure' under the Fee payment menu of our school website.
Note: 1. Admission will be granted subject to the following conditions:
a) All details being correctly filled in the Admission cum Registration form and signed by parents.
b) All documents required for admission being submitted.
c) Full fee applicable being paid (fee once paid will not be refunded)
d) The school does not accept any donation/capitation whatsoever for admission.
FEE STRUCTURE & DETAILS
· Admission Form (Non-Refundable & Non-Transferable ): Rs. 1500
· Admission Fee (One Time Non-Refundable): 15,000 (Class Pre-Nur to 8) & Rs. 20,000 (Class 9 to 12).
Please check the updated fee structure for 2020-21 given under the FEE PAYMENT SECTON. Fee Structure for 2021-22 will be updated and fee shall be increased by upto 12% or as permissiable by the prescribed law/government orders (whichever is lower).
TO DOWNLOAD PROSPECTUS & FOR MORE INFORMATION CHECK THE ADMISSIONS SECTION OF OUR SCHOOL WEBSITE https://www.school.ipem.org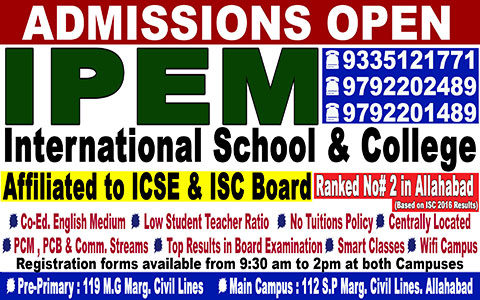 FOR DETAILED CHRONOLOGY OF PAST YEARS BOARD RESULTS & ANALYSIS CLICK HERE
Last Updated On Wednesday, 13 Jan 2021 10:54