IPEM International School
Friday, 9 Dec 2016 09:39
STEPS: HOW TO PAY FEE ONLINE
1. Go to the Online Fee payment Page (Click Here)

2. Enter the Student ID.
Note the Student ID is the Numeric part of the student registration number before the slash sign. Example.
If your wards student registration number is 2872/P/14 . His/ Her ID number is 2872 . Student ID number is also printed on your wards Student Identity Card. In case you have FORGOTTEN your ward's ID Click Here

3. Enter your Registered mobile number.
Registered mobile number is the one on which you receive SMS updates & notices from the school.
4. Click on submit button. Now you will be shown your ward's details. Enter your email address (if not available). Click on Pay Now. You will then be redirected to the secure payment gateway.
5. Please do not press back or refresh button during the payment process. Follow the steps as you do any online payment using the Debit/Credit card or Netbanking option.
6. Once the transaction is successful you will be redirected back to the school website from where you can print the receipt. Your ward's class teacher will also be notified by SMS about the online fee deposit.
7. Submit a print out of the online fee receipt to the Class teacher and school office (your ward can submit). All online fee receipts are double verified online from payment gateway
IMPORTANT INFORMATION REGARDING ONLINE FEE PAYMENT
1. Online fee deposit facility will be available as per the fee schedule given below:
Quarter

1st Quarter (Q1)
(Apr-May–Jun)

2nd Quarter (Q2)
(Jul-Aug–Sep)

3rd Quarter (Q3)
(Oct-Nov-Dec)

4th Quarter (Q4)
(Jan-Feb- Mar)

Due Date of Fee

1st April

1st July

1st Oct

1st Jan

Dates for Online Payment

01 Apr - 15 Apr

01 Jul - 15 Jul

01 Oct - 14 Dec

01 Dec - 31 Jan

Dates for Online Payment
(with Late Fee of Rs.50/-)

16 Apr - 30 Apr

16 Jul - 31 Jul

16 Oct - 01 Nov

16 Jan

2. After the last date of payment with late fee, the fee can be paid at the School Fee Counter at our S.P Marg Campus with Defaulter Fine of Rs. 500/-. Defaulter fine of Rs 500/- will be charged after the end of the 1st month of each quarter (i.e from 1 May/ 1Aug /1 Nov / 1 Feb). Facility to pay by debit card or credit card will soon be available at the Fee counter (with Fine). Only valid legal tender will be accepted at the School Fee Counter.
3. For check fee structure please click here
4. Payment Gateway charges will be added by the payment gateway to the fee amount and these charges are non-refundable (as per the schedule given below). These charges are made by the bank/payment gateway and the school does not have anything to do with these charges.



Debit Cards

1% of Total Fee Amount

Credit Cards

1.1% of Total Fee Amount

Net Banking

Rs.17/- (flat charge added to Total Fee Amount)
THIS IS THE CHEAPEST MODE OF ONLINE PAYMENT
5. Please refer to policies, terms and conditions, and other important information given in the footer section of this website.

6. Parents having Rupay cards can use their banks Netbanking facility while making payments, by selecting the netbanking option while selecting the payment option. Presently our payment gateway does not support Rupay Cards.
IMPORTANT INFORMATION REGARDING

FAILED
TRANSACTIONS
The online fee payment involves complex system of technical and telecommunication networking integration between parents's Internet bandwidth, IT system of banks and payment gateways and is dependent on internet connectivity across various constituents. Any failure or delay in this complex network may cause transaction failure before completion. In case of any payment failure at the time of online fee payment, if any funds are transferred into the school account, they will be refunded or adjusted against the fee payment transaction which failed. The school will not be responsible for refund/adjustment of any money which has not been actually credited to the school account, owing to failed transactions. Usually in such rare cases, the payment gateway company / bank automatically refunds the money within 10 working days. This happens in very rare cases and if this happens the school will make every effort to resolve an issue as early as possible and provide all necessary information to the parent in case of a complaint.

Incase a payment has failed and the money has been deducted from the parents bank/card and is not refunded within 10 working days, the parent must submit a written complaint to the school office giving the details of the transaction:
a) Student Name b) Student ID c) Registerred Mobile Number
d) Transaction Date e) Name of Card / Netbanking used Eg: HDFC Debit Card or ICICI credit Card or Axis Bank Netbanking etc.
f) Copy of page of bank statement / credit card/debit card showing the deduction and transactions for the next 10 days after the date of deduction.





Monday, 10 Apr 2017 06:35
Read more...
Friday, 6 May 2016 11:45
Thursday, 6 Apr 2017 07:48
Read more...
Monday, 16 Sep 2013 11:04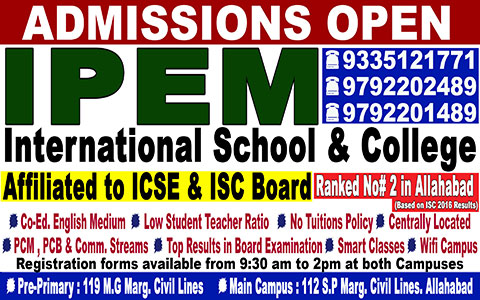 Registration for 2017 Admissions are now open.

The prospectus & registration forms will be available from our:
1. Pre-Primary Section & Head Office - 119/25 M.G Marg, Civil Lines Campus from 9am to 2pm
2. Main School Campus - 119/25 M.G Marg, Civil Lines Campus from 9am to 2pm.
While obtaining the registration form kindly give a valid working mobile number, as you will be sent updates on that number via SMS regarding the date of Entrance test, result of entrance test etc.
Please download our school prospectus for more information. The cost of the prospectus (including entrance test fee) is Rs. 500/-
Criteria for Admission
1. The student must meet the academic entry requirements laid down for each class.
2. The students must be medically fit as per the prescribed school standards.
3. The students age for admission into a class, should be as per U.P Government norms.
4. The School may grant admission on the basis of previous school report card, written test or interview.
5. The School reserves the right to grant or refuse admission without assigning any reason.
6. Facility of admission without any test is only for Nursery class.
Documents Required for Admission
1. Registration cum Admission form duly filled.
2. 2 Passport size photographs of the student.
3. Proof of residence of parents (Photocopy).
4. Birth Certificate (Photocopy duly Notarized by a Public Notary)
5. Photocopy of Report card of Last School attended.
6. Transfer Certificate from previous school. In case of transfer from a school outside the state the Transfer certificate must also be duly attested by the competent authority of the Education Department of the State from where a student seeks transfer.
7. Other documents as statutorily required under Govt. or CISCE norms.
8. Indian Student Visa is required for Foreign Students.
9. Caste certificate is required to be given incase student is from SC/ST/OBC category.
Procedure for Admission
1. Obtain the prospectus and registration cum admission form from the Main School or Pre-Primary Section (9:30am-2:00pm)
2. Submit the documents required for admission to the IPEM International School ( Main Campus from 9:00 am to 12:30 pm).
3. You will be sent an SMS alert regarding the admission test dates and you are to bring the child on that day for admission test.
4. If the child is granted admission you will be intimated via SMS and will be required to pay the admission charges, annual charges and quarterly fee and obtain fee receipt.
Note
1. Admission will be granted subject to the following conditions:
a) All details being correctly filled in the Admission cum Registration form.
b) All documents required for admission being submitted.
c) Full fee applicable being paid (fee once paid will not be refunded, except for security deposit which shall be refunded as per rules given in the admission form).
d) The school does not accept any donation whatsoever for admission.
2. Please give your correct mobile number which you are using at the time of purchasing the prospectus as all SMS alerts regarding admission will be sent on that number.
Saturday, 21 Jan 2017 07:45
Read more...
Tuesday, 17 Sep 2013 07:36
Post Graduate Teacher : English
Preferably studied throughout in an ICSE affiliated school with over 70% Marks in English in class 10 & 12. M.A in English from a REPUTED University as a REGULAR student. B.Ed. Degree (from a N.C.T.E approved College/University). The Candidate must be able to speak & communicate fluently in English with correct pronunciation. Candidates with prior teaching experience of English at class 10 & 12 level in a reputed ICSE affiliated school will be preferred. Candidates must possess very good subject knowledge of the subjects they have studied at the graduate/postgraduate level. They must be well prepared to answer any questions related to their subject in the written test & interview and face a Spoken English fluency test. Click here to Apply Online
Note:
1.All candidates must be proficient in computers and must know how to use the internet for research, be able to fillout online forms, have a resonable experience using MS Word and MS Excel. 2. No email / paper biodatas will accepted only online applications will be accepted, please read the requirements very carefully before applying). The advantage of applying online is that your application remains in our system and is recalled for all future vacancies fitting your profile. You can also apply online for posts not advertised, so that your application is recalled from our database in case we have a vacancy in future.3. IPEM International School is located in Civil Lines (city center) and offers one of the best salary packages & career growth rates among top private schools of the city. Click here to Apply Online
Friday, 9 Dec 2016 04:34
Read more...