Notices
Monday, 16 Sep 2013 11:00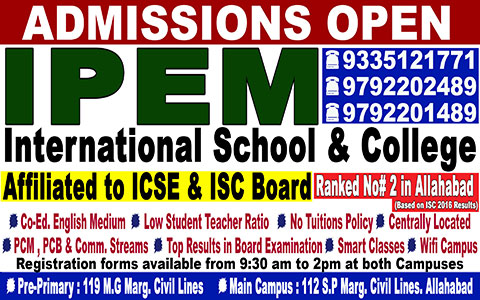 Registration for 2017 Admissions are now open.

The prospectus & registration forms will be available from our:
1. Pre-Primary Section & Head Office - 119/25 M.G Marg, Civil Lines Campus from 9am to 2pm
2. Main School Campus - 119/25 M.G Marg, Civil Lines Campus from 9am to 2pm.
While obtaining the registration form kindly give a valid working mobile number, as you will be sent updates on that number via SMS regarding the date of Entrance test, result of entrance test etc.
Please download our school prospectus for more information. The cost of the prospectus (including entrance test fee) is Rs. 500/-
Criteria for Admission
1. The student must meet the academic entry requirements laid down for each class.
2. The students must be medically fit as per the prescribed school standards.
3. The students age for admission into a class, should be as per U.P Government norms.
4. The School may grant admission on the basis of previous school report card, written test or interview.
5. The School reserves the right to grant or refuse admission without assigning any reason.
6. Facility of admission without any test is only for Nursery class.
Documents Required for Admission
1. Registration cum Admission form duly filled.
2. 2 Passport size photographs of the student.
3. Proof of residence of parents (Photocopy).
4. Birth Certificate (Photocopy duly Notarized by a Public Notary)
5. Photocopy of Report card of Last School attended.
6. Transfer Certificate from previous school. In case of transfer from a school outside the state the Transfer certificate must also be duly attested by the competent authority of the Education Department of the State from where a student seeks transfer.
7. Other documents as statutorily required under Govt. or CISCE norms.
8. Indian Student Visa is required for Foreign Students.
9. Caste certificate is required to be given incase student is from SC/ST/OBC category.
Procedure for Admission
1. Obtain the prospectus and registration cum admission form from the Main School or Pre-Primary Section (9:30am-2:00pm)
2. Submit the documents required for admission to the IPEM International School ( Main Campus from 9:00 am to 12:30 pm).
3. You will be sent an SMS alert regarding the admission test dates and you are to bring the child on that day for admission test.
4. If the child is granted admission you will be intimated via SMS and will be required to pay the admission charges, annual charges and quarterly fee and obtain fee receipt.
Note
1. Admission will be granted subject to the following conditions:
a) All details being correctly filled in the Admission cum Registration form.
b) All documents required for admission being submitted.
c) Full fee applicable being paid (fee once paid will not be refunded, except for security deposit which shall be refunded as per rules given in the admission form).
d) The school does not accept any donation whatsoever for admission.
2. Please give your correct mobile number which you are using at the time of purchasing the prospectus as all SMS alerts regarding admission will be sent on that number.
Last Updated On Wednesday, 18 Jan 2017 06:31